A traditional style tool, the Bonsai Hasami is useful as a combination garden, flower, or Bonsai shear, and is the best type of shear for cutting capillary roots. It's stout blades are excellent for light branch cutting and general Bonsai trimming. Useful in garden and floral applications as well as Bonsai.

#138 Professional Bonsai Hasami Shear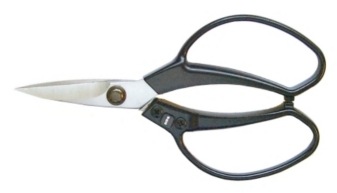 Designed for the professional nurseryman and landscaper, it's a cast aluminum handle provides a comfortable grip for constant daily use. Chrome plated, high carbon steel blades provide superior cutting ability, easy clean-up and maintenance. 2" blades, 8 1/2" overall.


#160 PROFESSIONAL GRADE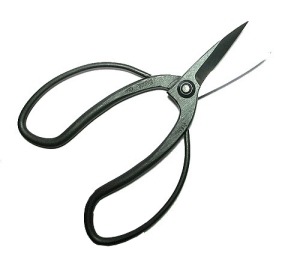 This professional quality Bonsai Hasami shear, with its' hand-forged, high carbon steel construction and laminated blades will perform extremely well over the years. A lifetime tool.
2" blade, 7 1/4" overall length


#3150 STAINLESS STEEL

The stainless steel construction of this Bonsai Hasami shear will give years of easy, rust-free care and superior use.
2" blade, 7 1/4" overall length

#8150 "JOSHY" OHKUBO HASAMI SHEAR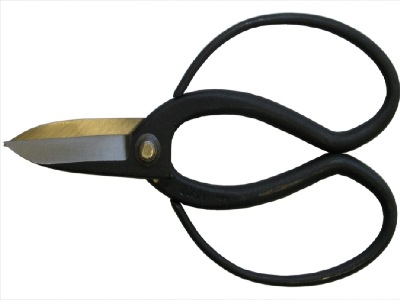 This Novice grade Ohkubo shear in our 'Joshy' brand is similar in design and use to our Bonsai Hasami shears, except that itsâ wider blades and heavier overall construction are designed for larger stock and small roots. Not generally suited for pruning branches. 2" blades 7 1/4" length



The Kiri and Satsuki Hasami, with its long, narrow body, is a fine shear for trimming buds and reaching deep with minimum disturbance to the surrounding foliage. Its' finger rings are also well suited for smaller hands.

#164 PROFESSIONAL GRADE


The hand forged blades on this high quality Satsuki shear are constructed of laminated, high carbon steel for a lasting cutting edge. The finish and feel of this shear is that of a quality product.
2" blades; 7 3/4" overall

#1164 INTERMEDIATE GRADE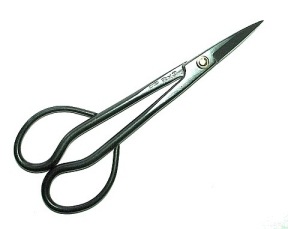 1 1/2" blades; 7 3/4" overall
This grade is a less expensive Satsuki shear for the serious student. The nice finish and laminated construction of its' blades are a good balance between cost and quality for intermediate-level enthusiasts. (see illustration above)

#1188 / #8188 KIRI HASAMI SHEARS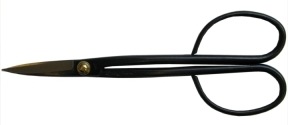 The Koeda Kiri shears are similar to the Satsuki, but with a narrower body and a little more length. Excellent for trimming inside dense foliage. Available in both our Intermediate and Novice lines.

#1188: Intermediate grade Koeda Kiri Hasami with high carbon steel construction for a lifetime of superior use.
1 7/8" blades; 8" overall

#8188: Novice grade 'Joshy' Koeda Kiri Hasami with quality steel construction will give years of reliable use.
2" blades; 8" overall

#8164 NOVICE GRADE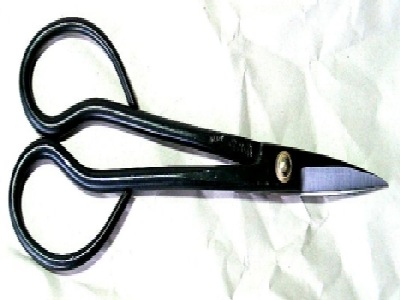 This Satsuki shear is our least expensive 'Joshy' brand. Its' steel construction is a durable tool for the beginning student. (see illustration above).
1 5/8" blade, 7" overall